The Pandemic changed a lot of things. Not only did wearing masks and talking about vaccines become a new norm, but another major adjustment that parents had to make is have their kids be home a lot more when schools got shut as cases spiked.
So, in this week's post, we decided to prepare parents for some indoor fun by curating some of our best-suited products and activities for the days when you have to stay at home.
Whether you're looking for a learning activity, a way to enhance skills or an opportunity to entertain your child during these uncertain times, we've got you covered with these 5 Indoor Games for kids.
Stocking up on some of these boredom-busting activities from Toddle amongst your other gaming options will be a game-changer (no pun intended!) when the need arises making being indoors a blast with these indoor games being something your kids look forward to.
1. Train the Brain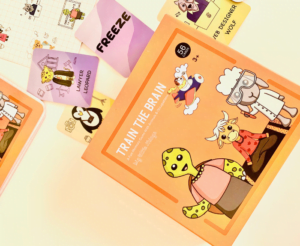 No matter what your child plans to do professionally someday, it's best to give them a head start by making them understand and identify the different roles people play when at work and how these roles make a difference in Society.
Our Train the Brain set of cue cards mixes real-life roles with fun animal characters such as 'Web Designer Wolf' or 'Lawyer Leopard' to help create a fun imaginary environment where you lay the foundations of a variety of vocations.
After playing the game a few times, you should be able to ask your child questions like – if I want to develop a website, who should I go to? and they will be able to answer.  Strengthening these associations will help your child improve vocabulary, think critically and solve problems that they would not be able to prior to playing the game as well as improve their decision making.
2.Find Me First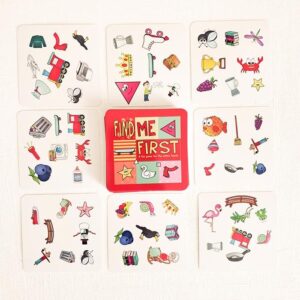 The perfect choice for the family at home, Find Me First is a thrilling, speedy object recognition game. A hit amongst preschoolers and parents alike – speed is the objective in this game and as your child continues to play, they will develop better hand-eye coordination, strengthen memory, develop better visual recognition and be able to pay better attention to the finer details.
3. Country Snap 
We live in a diverse world. And while cancelled flights and travel restrictions may be holding many of us back, the one thing we cannot restrict is our child's imagination.
So, continue exploring the beautiful places and wonderful destinations that the world has to offer with Country Snap. One of the best games to explore the globe and have your child learn about various countries at the same time. The game comes with a set of 52 cards that has some 'funtastic' information about 13 countries.
4. Scavenger Hunt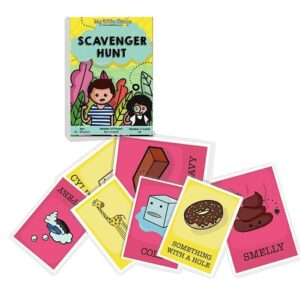 A day spent inside is anything but boring with this creative at-home scavenger hunt. Your little one(s) pick a card and go on a joyful hunt to find an object that matches the attribute in the card. The best part: Kids interpret many of the clues — to "find something with a hole" or "find something spikey" which challenges their imagination, ability to focus, to visually perceive, and most importantly to think creatively.
These thoughtfully designed cards also sharpen their ability to remember and as the setting changes from your living room to the kitchen, to the garden, a friend's house, a park, a beach, or a holiday resort and more – new avenues for adventurous learning open up!
5. Sight Words Step and Slide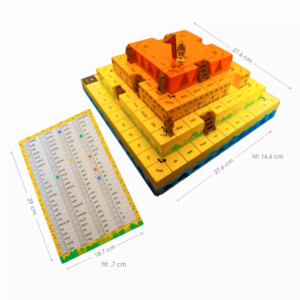 Playing and learning are completely natural for toddlers, so mastering skills is easy when you're introducing the right games for them. The next time you're at home with your kids, it's the perfect opportunity to develop their reading skills with the Slight Words Step and Slide.
In this sight word game, knights climb up ladders and fall down the pits in an effort to reach the top of the castle. As children play this funky variation of snakes and ladders, they learn to read all the sight words necessary for reading a simple storybook. So, Cease the day and battle to the top of the Kingdom and learn at the same time with the Slight Words Step and Slide.