Parenthood's early phases are vital. There are a plethora of children's products to  pick from. Parents must act carefully by avoiding the hype of popular products and selecting proper early childhood learning books and tools for their children. Here comes Flashcards- the early learning product to develop early literacy skills that will have a long-term impact on your child's career.
In the past, interactive discussion, listening and storytelling, and learning new vocabulary from a dictionary were all valuable elements in advancing literacy. Will these learning styles, however, suffice in today's educational environment?
We recognise the challenges of learning at various ages and stages, which is why we've created colorful and interesting flashcards by our top educators.
What Are Flashcards?
Flashcards are an excellent way to engage and encourage learning in toddlers, and they are a tried and true method of training and teaching children in recent years. This engaging method of instruction includes a variety of themes or pictures that hold the children's interest.
It is common for toddlers to begin liking and identifying new noises and colours. This makes flashcards an excellent early childhood learning tool for introducing new words, images, or concepts to young toddlers. You can choose alphabet flashcards, animal flashcards and various types of flashcards based on your child's age. 
Why Are Flashcards Important?
Flashcards can be a fun approach to introduce and teach an idea to a youngster that could be related to animals, colors, or even patterns. With flashcards, you're actually engaging the youngster in a question-and-answer style, which will pique his or her interest in the topic and motivate him or her to memorize the answer. Children's metacognition, or awareness and knowledge of one's own mental processes, is further developed through flashcards, where they rate their own performance based on the number of cards they can recall or get correct.
The following are some of the advantages of using flashcards with your children:
Enhances meta-cognition and awareness of one's own attitude and thought processes.

Makes connections between youngsters in order for them to communicate and learn languages.

Encourages toddlers to learn from a young age.

It enhances object identification and connects creativity in the brain.

Enhances awareness of their surroundings

It encourages "active recall" and improves memorizing.

Develops knowledge and comprehension skills.

Allows for self-assured repetition Stimulates independent thinking

Improves fine motor skills

Improves visual memory and confidence
What Types Of Flashcards Are Best For My Child?
This is dependent on your child's age and the milestones they are working toward, as well as what they are beginning to show an interest in. We believe that early learning should be kid-led. If your child shows an interest in a specific area of learning, you should definitely encourage them to pursue it.
You can choose from the flashcard packs listed below.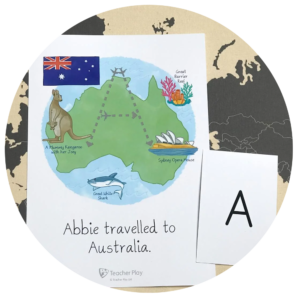 Alphabet Flashcard Pack A-Z
There are 26 double-sided cards in the set, each featuring an artwork that helps reinforce proper letter formation. All cards can be wiped clean with a dry wipe pen.
These Learning alphabet Cards are developed with bright graphics and engaging lyrics to encourage young children in their abilities to recognise and draw lower case letters. By giving children a story they can relate to, they will be able to acquire information more rapidly while having a fun and engaging learning experience.
Capital Letters Flashcard Pack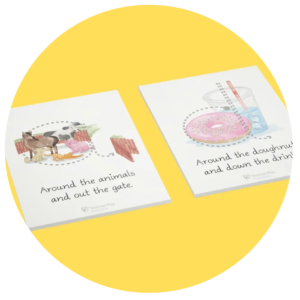 There are 26 double-sided cards in the collection, each bearing an illustration on one side. The cards are based on geography and cover a wide range of countries, flags, and maps from around the world. Depending on the age of the child, the cards can be used in a variety of ways. It's critical to remember that each child is different and has a different learning style. Children may learn what a capital letter is and what it is used for by using the cards. They can also assist children in learning how to create letters. You can focus children's attention to the map, flag, and images, allowing them to learn new words at the same time.
These flashcards are suitable for youngsters aged 2 to 7.
Where Can I Find Flashcards For My Child?
You can buy any of these flashcard sets for your kids from Toddle. As mentioned earlier, we have top educators who carefully curated and created each of our educational toys, card sets, crafts, and other stuff while keeping in mind children's age-based developmental goals.
We offer competitive packages on our items. You can get free delivery on orders over AED 200 within the UAE.
We also have subscription learning boxes that have 12+ activities designed for the physical, mental, cognitive and social development of growing kids. Click here to explore our monthly subscription learning box packages. 
Final Words
The nicest aspect about studying with flashcards is that it can be done at any time of day. It is not necessary to sit their child down in some format; rather, it can be done in the middle of a game session as part of the game. It's as simple as it sounds, yet it's a powerful memory aid for your child.
WhatsApp +971521122768 or send your queries by email at [email protected]